Meet Anna
Hello! I am Anna Rozovsky. I'd like to welcome you in my Piano Studio! Allow me to share with you some important milestones of my personal upbringing and professional career.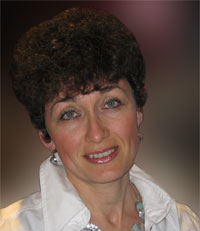 I was born in Ukraine into a family of musicians. I began my early studies at the age of five with my grandmother who was my first piano teacher. My passion for music was also influenced by my two uncles, both accomplished musicians, one - pianist, the other - violinist.

My formal musical education began at the Special Music School for Gifted Children associated with the Lyatoshinsky Music College, which I then entered after finishing Music School. After graduating from the College in 1983 and receiving my Bachelor of Music Degree with Honors in Piano Performance and Music Theory, I continued my musical training at Kharkov Kotlyarevsky Conservatory of Music. Studying at this renowned school and drawing from the faculty of dedicated professors and music scholars not only added profound depth to my musical knowledge, but revealed my true calling. It was then when I set my sights on a career in teaching. This decision was also influenced by the comprehensive course in Child Psychology and Pedagogy.

In 1988 I earned my Master of Music Degree with Honors in Piano Performance, Pedagogy and Musicology. My intensive training in musicology and numerous performances of Romantic piano literature resulted in the thesis titled, "Piano Ballade as a Genre of Romantic Music in 19th Century," written under Professor Irina Ivanova and published in 1988.

Upon graduation, I worked as a piano instructor, conducted classes in music theory and history, held a position of accompanist at the Institute of Music and Pedagogy.

Once I settled in the Bay Area, I resumed teaching privately and in August 1991 founded my Piano Studio. From the early years the mission of the Studio has always been two-fold: teaching proper techniques in playing piano is as important for me as nurturing the artistic spirit in each child and cultivating a lifelong love of music and the arts.

My passion for teaching piano has been rewarded in many ways. Over the years my students have been chosen to perform at statewide conventions and conferences, recitals and master classes, various music festivals, and the most hard-working ones receive top prizes at various music competitions. I take great pride in being the first and only piano teacher for many of my students, taking them to my class as 6-year-old beginners and seeing them through their graduation at 18. My most devoted pupils follow my footsteps and choose the fine art of teaching as their careers. As their teacher of many years, I find the greatest satisfaction in seeing them as my colleagues.

I am an active member of MTAC (Music Teachers Association of California), Palo Alto Branch and MTNA-CAPMT (Music Teachers National Association - California Association of Professional Music Teachers).